Hair design for transformation.
From colours to cuts, we offer a variety of services to keep you looking and feeling your best. Ready for your next appointment?
What are you looking for?
A great haircut can change everything. Book a women's haircut or styling with us!
Just need a simple shampoo & blow dry? We've got you covered.
Cut & blow dry (short hair)
$55
Cut & blow dry (medium hair)
$65
Cut & blow dry (long hair)
$75
Shampoo & blow dry (short hair)
$30
Shampoo & blow dry (medium hair)
$40
Shampoo & blow dry (long hair)
$65
Can you tell me which cut will look good on me?
We're happy to help you choose a hair cut that you'll love!
How often should I get my hair cut?
If you want to maintain the length and style of your hair, you should get your hair trimmed every 6-8 weeks. If you're trying to grow out your hair, we'd recommend getting a trim every 8-10 weeks to prevent your ends from getting damaged.
It's been a while and you're ready for a colour treatment. We can help. We're proud to offer L'oreal's INOA, their first ammonia free, permanent hair colouring technology. And our Majirel hair colouring system is the perfect rich, permanent hair dye for complete grey hair coverage. With over 100 shades to choose from, we can find the exact colour you are looking for. Get a toner treatment to add natural or more visible tones after your colour treatment. Give yourself a sun kissed look with a balayage, or add depth and volume to any style with partial or full highlights.
Inoa – Full Colour (Ammonia free)
$95
Partial Foil Highlights
$120
Full Head Foil Highlights
$180
How often should I touch up my hair colour?
Most people schedule touch ups for their roots around four to six weeks apart.
My hair is very dark. How long will it take me to go blonde?
This can really depend on your unique situation. If you have dark hair it may take several sessions to achieve the blonde you are looking for. We can consult with you in-person to give you expert guidance on your hair.
Will colouring my hair damage it?
Hair dyes can cause damage to your hair, but it can be prevented by using the right products. We'll give you advice for your unique hair type and the best way to prevent damage.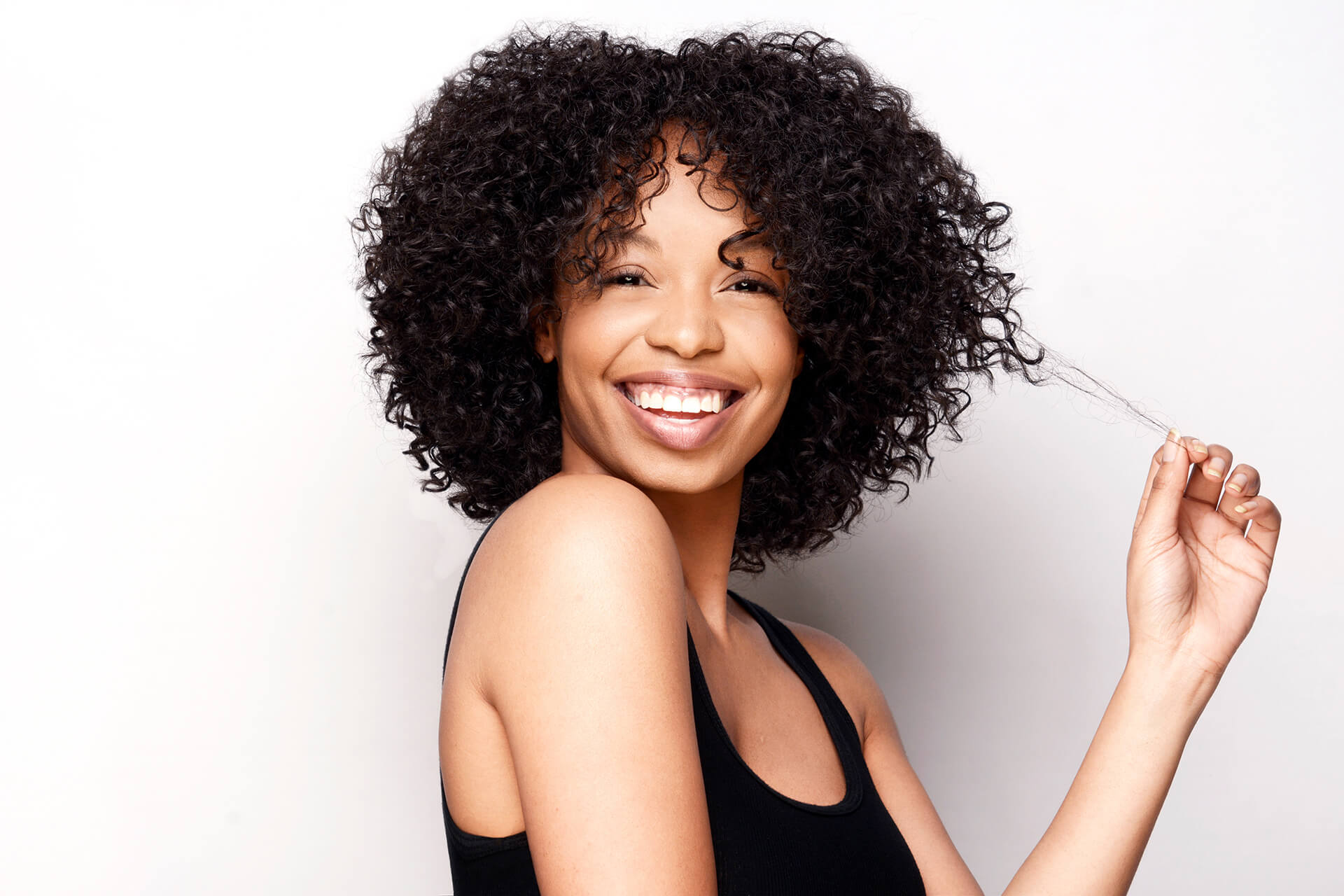 Nothing beats a head of bouncy curls that keep their shape. Curly hair requires a different approach than other kinds of hair, and if you have very curly hair, you've surely experienced the challenges with finding the right salon for your hair!
We offer curly cuts and styling for your unique hair texture and hair type.
Curls Hydration Treatment
$30
Do you cut curly hair while it's wet?
Sometimes! Typically, it is common for very curly hair to be cut while dry to account for shrinkage and better reflect the way your hair naturally falls. However, when hair is handled heavily or has product in it it, it can change the way it looks and in these cases, getting the hair a little bit wet can actually improve the cut. We take all of these things into account and work with your hair type to cut your hair in the best way for you.
How should I prepare before getting a cut?
We recommend exfoliating and clarifying your hair a week before your appointment. Be sure to thoroughly condition your hair.
My hair is very coily - can you help me?
We work with a wide range of hair types. If you're unsure, send us a photo of your hair and we will get back to you!
Do you have damaged hair? Never fear, come in and get a 3 level repair of Pro Fiber Treatment. Eliminate frizz and get an insanely glossy shine with a Keratin Brazilian Blow Out. After a treatment like this you can also expect your strands to be hydrated and more resilient to heat styling.
Is your hair flat and in need of some volume? We can fix that with a Permanent Wave that'll last for months!
Botox Hair Relaxing Treatment
$250+
Xtenzo Hair Straightening Treatment
$250
Hair Conditioning Treatment
$30
Your big day is coming up and we leave no room for errors. For weddings and big events, we offer Special event Styling and a Bridal Hair Consultation with a Trial to ensure your satisfaction. For best results, we suggest coming in 8-10 weeks in advance.
Bridal Hair Consultation and Trial
$150
Updo/Special Event Styling/Curls
$90+
How far ahead should I book a bridal hair consultation and trial?
We recommend booking your trial 8-10 weeks before your wedding.
How can I book a bridal hair consultation and trial?
You can book a consultation by contacting us directly. You can also send us inspiration photos!
Your hair needs love too!
We offer men's cuts, colour and hair treatments to help you look and feel your best.
Men's Xtenso Hair Relaxer
$100
Ready for your best hair ever?
When your hair looks this good, you can take on anything. Book your hair appointment online. We can't wait to see you!